Spano's Restaurant | Frank's Humble Abode | FrankoSite2020.Com | formerly known as frankosport.com



Columbus, Georgia restaurant which was in operation from 1893 to the mid-1980's
---
Home Page
About Me
Contact Me - Email or Facebook
Latest Web-Site Updates
Web Links on this page will be in the form of

blue-colored, underlined text

.
The images below are from a little four-page brochure. I'd love to have some images
of menus, adverts plus any other related memorabilia. Feel free to contact me through
the "Contact Me" links found on this page.       Thanx-A-Lot and Enjoy.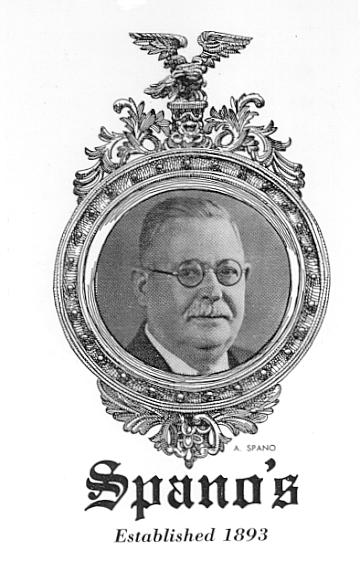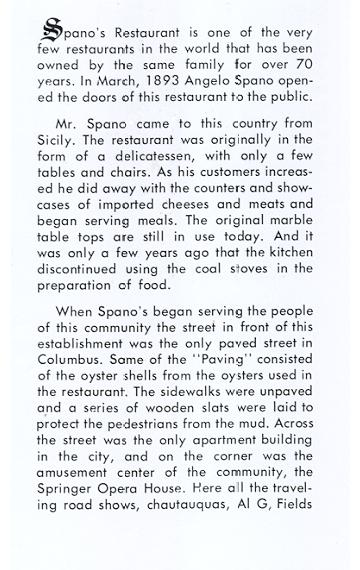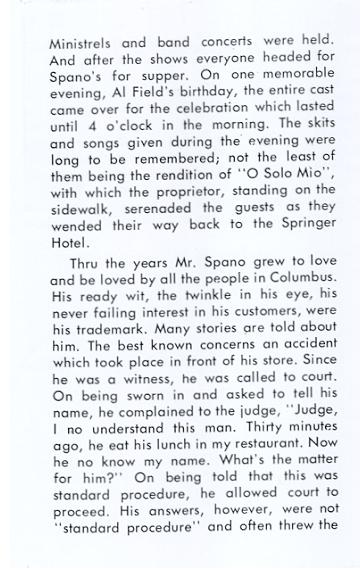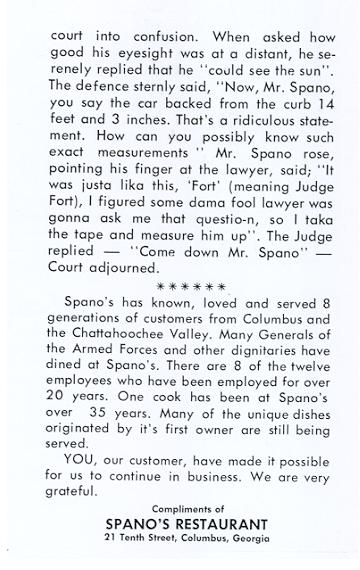 ---
Frank's Humble Abode : FrankoSite2020.com : Tubiephrank0707 : Phenix City AL Alabama : Columbus GA Georgia : Ledger Enquirer : WRBL 3 : WTVM 9 : WLTZ 38 : WXTX 54 : WDAK 540 AM : WRCG 1420 AM : Pacelli High School : St. Patrick's School : Central : Kendrick
Jordan : Carver : Glenwood : Baker : Pratt & Whitney : Chattahoochee River : AFLAC : Dinglewood Pharmacy : Wells Dairies : Flav-O-Rich : Tom's Peanuts : Spano's Restaurant : Joby's : Sea Horse Store : Panama City Laguna Beach Florida : Miracle Strip
Luke's Pub Steakhouse Ellerslie : Mark's City Grill : Rose Hill Seafood : Ezell's Catfish House : Pat's Backwaters : RC Royal Crown Cola : Kadie the Cow : Kinnett Dairies : 13th Street Bar-B-Q : Fountain City : WXLE 100.1 : WWRH FM Stereo 104.9 : Susan Quincy
Southwest Technical Products Company : SWTPC : All-Time Star Trek Dream Crew : Howie's Cafe Smiths Station : Lafayette Radio : Radio Shack : Heathkit : Catalogs : Burstein-Applebee : PowerBasic Console Compiler : Kube-0-Seven Demo : FrankoSport
Speak Easy : B. Merrell's : Deorio's Pizza : Country's Barbeque : Charging Tyrannosaurus of Despair : Alabama - Roll Tide : Troy State University : CVCC : Rozell Show : Colonel Chick : Sportsman's Lodge : V-Man Peace to the Universe : Captain George Archer Brown Ferrell
Southern Ashe : Mike McLain : Tony Stephens : Jeff Fredrick : Rud King : Jimmy Pope : Alan Hussey : Danny Elrod : Randy Jackson : Terry Young : Robert Earl : Ashe Kickin' Country