1952 Phenix City - Russell County Alabama Brochure

  12-page advertisement promoting the area, but with no mention of those "other activities".

 

---
St. Patrick School - Phenix City AL

  Photos and nostalgia Items for group that attended from 1963-64 (Kindegarten) to 1971-72 (8th grade).

 
---
My Favorite Music .... Volume One and Volume Two

 

Personal favorite artists and songs. These pages will GROW!, so check them often.



  Southern Ashe   Southern country-rock band from Phenix City AL and nearby towns.
 

Mike McLain, Tony Stephens, Jeff Fredrick, Rud King, Jimmy Pope and Alan Hussey | Danny Elrod, Randy Jackson, Terry Young and Others.





---
YouTube Playlist Collection       A companion to the "My Favorite Music" page.

  Playlists shown are those generated by YouTube itself, or those compiled by individual YouTube
  users. Each list will feature (1) notable albums by groups and individuals; (2) A mix of tunes from
  different sources that are combined to highlight a certain musical theme.



---
The Sea Horse Store

  Fondly remembered (by family and friends) old landmark in Laguna Beach, Florida.

 

---
Was Once the World's Tallest Structure

  TV tower for Columbus, Georgia stations WRBL-3 and WTVM-9. At one time it was -THE TALLEST EVER-
  man-made structure in the entire world. Read about the tower's conception and construction, as well as
  its entry in the 1963 Guinness Book of World Records.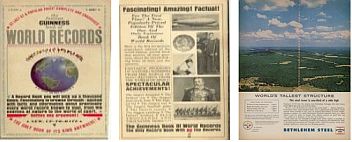 ---
Spano's Restaurant

  Landmark restaurant that operated for over 90 years in downtown Columbus, Georgia.
  Author welcomes feedback and information concerning any Spano's Memorabilia. !!!!!!



---
1972 Pacelli High School Student Handbook       Columbus, GA.

  Rules and regulations, academic or otherwise, that every Pacelli student had to know. Simple flip-thru
  browsing. Also: web links to Pacelli, St. Anne's School and St. Anne's Parish.

 

---
1942 Walt Disney John Morrell Meats Calendar

  Features "Three Little Pigs", "Pinocchio", "Snow White and the Seven Dwarfs", "The Brave Little Tailor",
  "Donald's Golf Game", "The Grasshopper and the Ants", "Society Dog Show", "The Ugly Duckling",
  "The Old Mill", "The Funny Little Bunnies", "Barnyard Symphony" and "The Band Concert". In addition
  to the Disney art, there are classic Morrell Meats ads running along the bottom of each calendar page.

 

---
Electoral Points Proposal

  Calls for the elimination of such things as the Electoral College and "Winner Take All". States would
  be placed into groups on the basis of alphabetical order, ignoring such factors as population rank and
  Congressional re-apportionment, and a specific amount of Electoral Points would be offered by each
  group of states based on their priority ranking in a given election.

  While a potential candidate's campaign strategy may be focused on earning the most Electoral Points
  possible from the higher ranking groups in a given election, they would very likely also have to rely
  on Electoral Points earned from the lower ranking groups for ultimate victory. Perhaps not the "direct"
  election that some entities desire over the current Electoral College, but the Electoral Points format
  would be much closer to "direct", and it may help to keep presidential campaigns a bit more honest.

  Recent Results: 2020   2016   2012   2008   2004   2000   1996   1992

  Noteworthy Results: 1980   1976   1968   1960   1948   1924   1912