Southwest Technical Products SWTPC Catalog Archive ... Frank's Humble Abode at frankosite2020.com ... formerly known as frankosport.com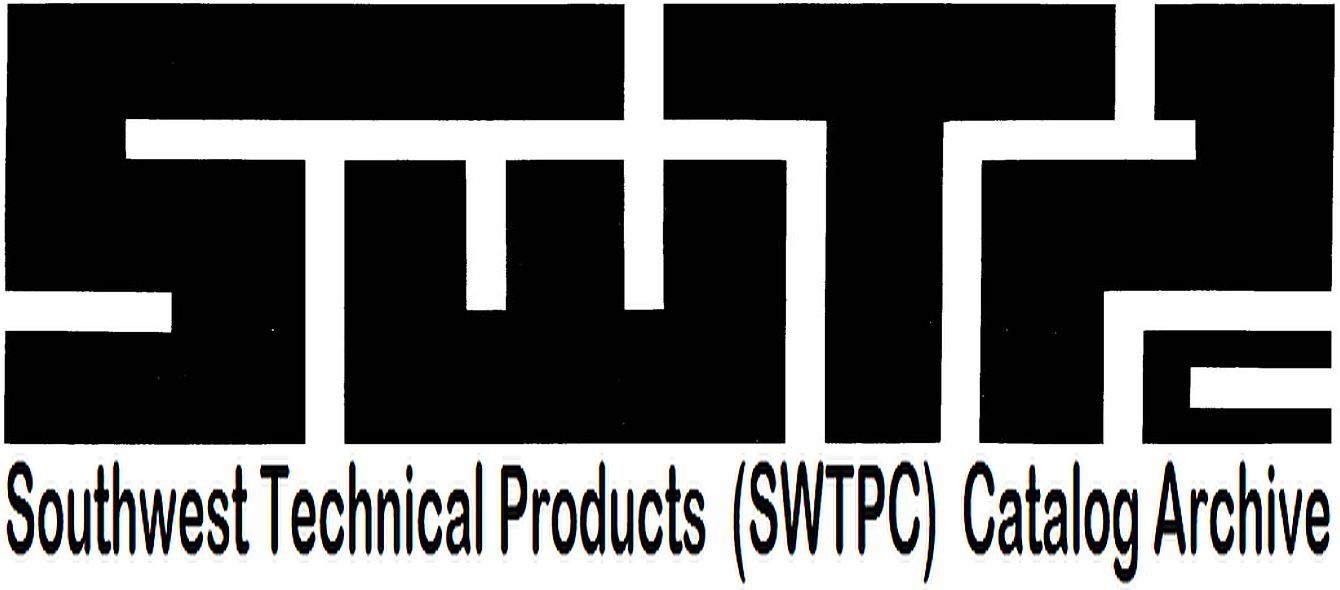 From 1964 to 1986, SWTPC offered kits for hi-fi audio, as well as for computers.

Wikipedia Article

From deramp.com -- SWTPC Computers       Michael Holley's SWTPC site -- Restored - A - / - B -

At the restored Holley site .. -A- or -B- links .. look for "SWTPC Advertisements and Brochures".


---
---
SEE ALSO ... Famous Arty Faxx ... for other catalog and archival sites

My Home Page   About Me   Contact Me     Latest Site Updates

22 separate PDF files are available herein. Each PDF file will contain one of these -- an SWTPC catalog;
a test report of an SWTPC product (by Popular Electronics or Radio Electronics); or, "extra" content.

Right-click (or left-click, if desired) on any image (or "Orders" text) shown below to call up a PDF file.
You can then choose to open the file with a PDF browser (like Adobe), or save the file to your computer.

Lil Tiger
Power Amp
Test Report
10-1967 Pop Elec.

1969
SWTPC
Catalog
!!*!!

Stereo
Preamp
Test Report
5-1969 Pop Elec.

Stereo
Preamp
Front and Back
Views, 5-1969

1970
Special
Report
Brochure
---

Universal Tiger
Power Amp
Test Report
10-1970 Pop Elec.

1971
SWTPC
Catalog
!!*!!

Plastic Tiger
Power Amp
Test Report
10-1971 Pop Elec.

1972
SWTPC
Catalog
"A" Edition

1972 SWTPC
Catalog "B" Edition

»» Order Forms
---

198A Stereo Preamp
Test Report
12-1972 & 1-1973
Radio Electronix

1973
SWTPC
Catalog
!!*!!

1974
SWTPC
Catalog
!!*!!

TigerSaurus 250
Test Report
12-1973
Radio Electronix

Nine Band
Stereo Equalizer
Test Report
5-1974 Pop Elec.
---

1975
SWTPC
Catalog
!!*!!

1976
SWTPC
Catalog
(Regular)

1977
SWTPC
Catalog
(Computer)

1978
SWTPC
Catalog
!!*!!

1980
SWTPC Catalog

»» Order Form
---
Additional Info: Magazine Articles from World Radio History

For those so interested, the complete (all pages) issues of the magazines mentioned on this page can be viewed at the
World Radio History website
. This site is a storehouse of PDF-archived information about the development of radio
and television during the 20th Century. Other topics which the site covers in varied detail include --- the early
years of the personal computer age; audio hi-fi and music (
High Fidelity
,
Stereo Review
);
consumer catalogs
(Heathkit, Radio Shack, Allied Radio, Burstein-Applebee, Olson,
Lafayette Radio
, Concord Radio, and others).
Popular Electronics
||
Dec. 1967 (Lil Tiger)
May 1969 (Stereo Preamp)
Oct. 1970 (Universal Tiger)
Oct. 1971 (Plastic Tiger)
May 1974 (Stereo Equalizer)
---
Radio-Electronics
||
Dec. 1972
and
Jan. 1973
.. (198-A Preamp)      
Dec. 1973 (Tigersaurus 250)
ALSO ... Radio Electronics reports on the Tiger .01 60-watt (RMS @ 8-ohms) amplifier in their
March 1973
,
April 1973
issues.
It is part of a two-issue series on building a power amp for 4-channel stereo systems.
---
---
Southwest Technical Products (SWTPC) Catalog Archive ... Frank's Humble Abode at frankosite2020.com ... formerly known as frankosport.com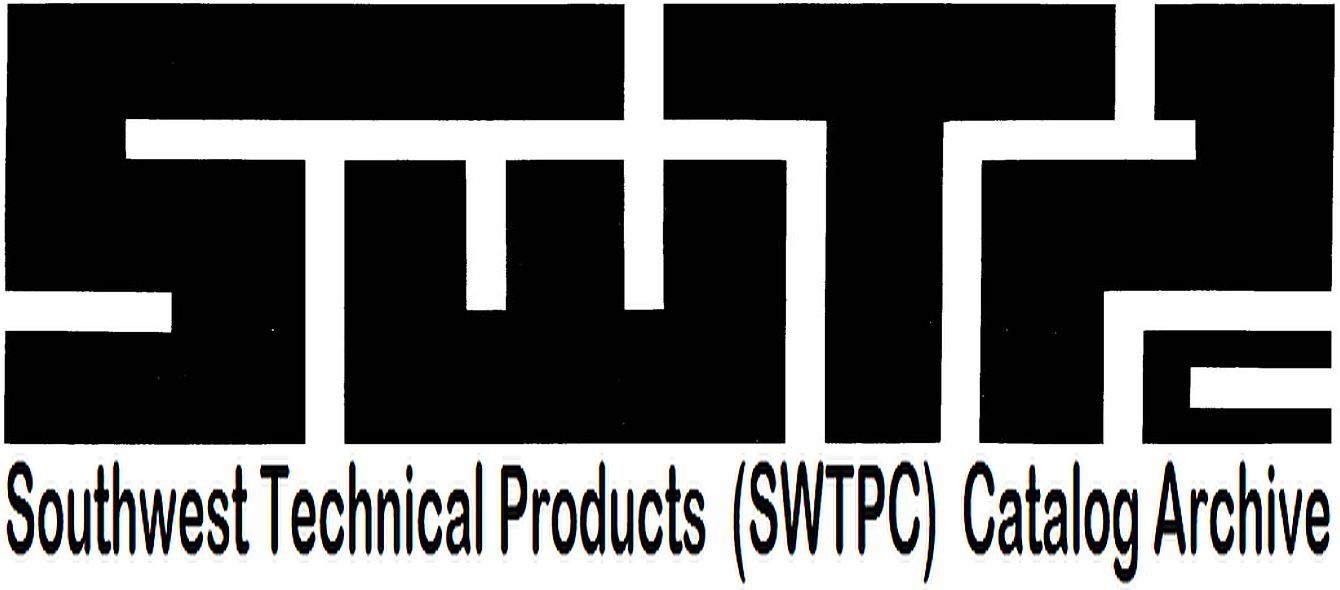 ---
---
SEE ALSO ... Famous Arty Faxx ... for other catalog and archival sites

My Home Page   About Me   Contact Me     Latest Site Updates


Back To The Top Of This Page
---
---
Frank's Humble Abode : FrankoSite2020.com : Tubiephrank0707 : Phenix City AL Alabama : Columbus GA Georgia : Ledger Enquirer : WRBL 3 : WTVM 9 : WLTZ 38 : WXTX 54 : WDAK 540 AM : WRCG 1420 AM : Pacelli High School : St. Patrick's School : Central : Kendrick
Jordan : Carver : Glenwood : Baker : Pratt & Whitney : Chattahoochee River : AFLAC : Dinglewood Pharmacy : Wells Dairies : Flav-O-Rich : Tom's Peanuts : Spano's Restaurant : Joby's : Sea Horse Store : Panama City Laguna Beach Florida : Miracle Strip
Luke's Pub Steakhouse Ellerslie : Mark's City Grill : Rose Hill Seafood : Ezell's Catfish House : Pat's Backwaters : RC Royal Crown Cola : Kadie the Cow : Kinnett Dairies : 13th Street Bar-B-Q : Fountain City : WXLE 100.1 : WWRH FM Stereo 104.9 : Susan Quincy
Southwest Technical Products Company : SWTPC : All-Time Star Trek Dream Crew : Howie's Cafe Smiths Station : Lafayette Radio : Radio Shack : Heathkit : Catalogs : Burstein-Applebee : PowerBasic Console Compiler : Kube-0-Seven Demo : FrankoSport
Speak Easy : B. Merrell's : Deorio's Pizza : Country's Barbeque : Charging Tyrannosaurus of Despair : Alabama - Roll Tide : Troy State University : CVCC : Rozell Show : Colonel Chick : Sportsman's Lodge : V-Man Peace to the Universe : Captain George Archer Brown Ferrell
Southern Ashe : Mike McLain : Tony Stephens : Jeff Fredrick : Rud King : Jimmy Pope : Alan Hussey : Danny Elrod : Randy Jackson : Terry Young : Robert Earl : Ashe Kickin' Country