Frank's Humble Abode at frankosite2020.com .... formerly known as frankosport.com
St. Patrick's School: Class Photos
You can link to items on this page by clicking-on any
underlined, blue-colored text
.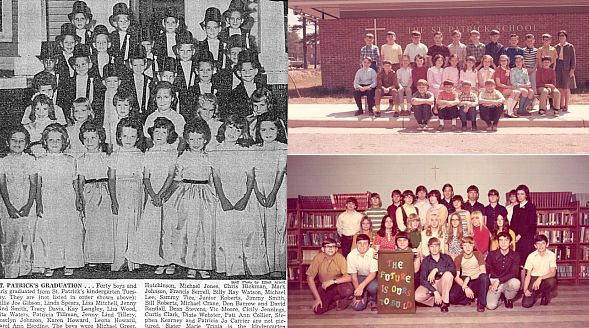 Home Page
About Me
Contact Me - Email or Facebook
Latest Web-Site Updates
---
---
Additional Phenix City AL - Columbus GA Links




1952 Phenix City - Russell County Alabama Brochure
Mentions many things about Phenix City and Russell County -- except of course for
certain "after-dark activities" that were still going on at the time.


Was Once the World's Tallest Structure
TV tower for Columbus, Georgia stations WRBL-3 and WTVM-9 was at one time -THE-
tallest ever man-made structure in the entire world. Read about the tower's conception
and construction, as well as its entry in the 1963 Guinness Book of World Records.


1972 Pacelli High School Student Handbook
Rules and regulations, academic or otherwise, that every Pacelli student had to know.
Pacelli High School was and still is located in Columbus, Georgia. It is now known as
St Anne's-Pacelli. Handbook page includes links to Pacelli and St. Anne's.


Spano's Restaurant
Landmark restaurant that operated for over 80 years in downtown Columbus, Georgia.
Author welcomes feedback and info concerning any Spano's Memorabilia.


My Favorite Music Volume One and Volume Two
The author's favorite artists and songs. Some have YouTube video links. These pages
will GROW!, so please check back to it often. Includes a section for

Southern Ashe

,
a Columbus GA-Phenix City AL area based band.


Mike McLain, Tony Stephens, Jeff Fredrick, Rud King, Jimmy Pope and Alan Hussey | ALSO: Danny Elrod, Randy Jackson, Terry Young and Others.



WDAK AM-540 Columbus, GA
Top 40 Hits Surveys -- Each opens in a new window or tab.

June 3rd, 1971   Dec. 23rd, 1971   May 18th, 1972   June 29th, 1972

New Electronic Marvel - Got Money??


The Southern Open (aka Buick Challenge) Tribute Page
Tribute to the PGA Tour stop contested at Columbus, GA
and Pine Mountain, GA from 1970 to 2002.
---
---
Frank's Humble Abode : FrankoSite2020.com : Tubiephrank0707 : Phenix City AL Alabama : Columbus GA Georgia : Ledger Enquirer : WRBL 3 : WTVM 9 : WLTZ 38 : WXTX 54 : WDAK 540 AM : WRCG 1420 AM : Pacelli High School : St. Patrick's School : Central : Kendrick
Jordan : Carver : Glenwood : Baker : Pratt & Whitney : Chattahoochee River : AFLAC : Dinglewood Pharmacy : Wells Dairies : Flav-O-Rich : Tom's Peanuts : Spano's Restaurant : Joby's : Sea Horse Store : Panama City Laguna Beach Florida : Miracle Strip
Luke's Pub Steakhouse Ellerslie : Mark's City Grill : Rose Hill Seafood : Ezell's Catfish House : Pat's Backwaters : RC Royal Crown Cola : Kadie the Cow : Kinnett Dairies : 13th Street Bar-B-Q : Fountain City : WXLE 100.1 : WWRH FM Stereo 104.9 : Susan Quincy
Southwest Technical Products Company : SWTPC : All-Time Star Trek Dream Crew : Howie's Cafe Smiths Station : Lafayette Radio : Radio Shack : Heathkit : Catalogs : Burstein-Applebee : PowerBasic Console Compiler : Kube-0-Seven Demo : FrankoSport
Speak Easy : B. Merrell's : Deorio's Pizza : Country's Barbeque : Charging Tyrannosaurus of Despair : Alabama - Roll Tide : Troy State University : CVCC : Rozell Show : Colonel Chick : Sportsman's Lodge : V-Man Peace to the Universe : Captain George Archer Brown Ferrell
Southern Ashe : Mike McLain : Tony Stephens : Jeff Fredrick : Rud King : Jimmy Pope : Alan Hussey : Danny Elrod : Randy Jackson : Terry Young : Robert Earl : Ashe Kickin' Country